Want a single location from which to control your WordPress site? With FlyWP, the best WordPress server management solution weDevs has ever produced, you can desire to do that smartly.
It appears that managing a server and the sites it hosts is a time-consuming task. It entails a series of hard tasks and responsibilities, including checking and monitoring the site's status, upgrading plugins and themes, managing server configurations, assuring security, supervising developer-related duties, and more.
Generally, you have to be a technical person to be able to solve these. But the good news is that FlyWP makes these tasks easier than ever. One dashboard, one destination, and one click—that's all.
Curious to know about this exciting product? Let's take a look at this powerful server management solution for your WordPress site and see what it can do for you.
A short introduction to FlyWP: Its mission and user-benefits
Managing WordPress servers is a tedious and complex task. You have to be careful about each change you make in server-related things, such as configuring servers, customizing security measures, optimizing performance, and handling development tasks. From a technical perspective, it seems to be a regular task for the developers since they're used to the process.
But what if a non-technical person wants to manage their servers? For sure, it will be a hectic and time-consuming factor for them.
And this is where FlyWP steps in to simplify your WordPress site management journey. It's a comprehensive server management solution for WordPress websites that offers smooth site optimization, security, backups, and monitoring services on a single platform.
Furthermore, it offers flexibility, optimization, and developer-friendly features to handle your WordPress server-related hassles easily.
What's more? Here are some highlighted benefits that you'll get with FlyWP:
Automated performance boost: Experience automatic website speed optimization for enhanced performance.
Daily data safeguard: Ensure the safety of your website with daily backups, securing your valuable data.
Malware defense mechanism: Benefit from a built-in malware scanner, detecting and eliminating malicious code for robust website security.
Continuous monitoring and alerts: Stay informed about your website's uptime and performance with real-time monitoring, receiving alerts for any potential issues.
User-friendly dashboard: Manage your website's server settings effortlessly through a user-friendly dashboard. Access detailed performance metrics for insightful analysis.
24/7 support: Elevate your experience with the option to add 24/7 support, ensuring you have assistance whenever you need it. Experience seamless server management with all-encompassing services at your fingertips.
These are cool things, right? Let's dive deep into the details and explore more about this fascinating system for managing servers. FlyWP.
Quick Navigation:
The importance of a server management solution for WordPress
To set up a WordPress website, you'll need access to a server. Your website's functionality and security depend on the competent management and maintenance of this server. A WordPress server management solution may help you with things like backups, monitoring, and making sure the server is performing at its best. By employing a server management tool, you can ensure that your website runs efficiently, and saves both time and money.
Here are some benefits that you can get with a server management solution:
Helps maintain and manage your website's server to ensure that it runs smoothly and remains secure.
Assists with tasks such as server optimization, security updates, backups, and monitoring.
Saves time and resources while implementing development-related stuff.
Works well with popular servers like AWS, Digital Ocean, etc.
Ensures that your website is always up and running smoothly.
FlyWP features at a glance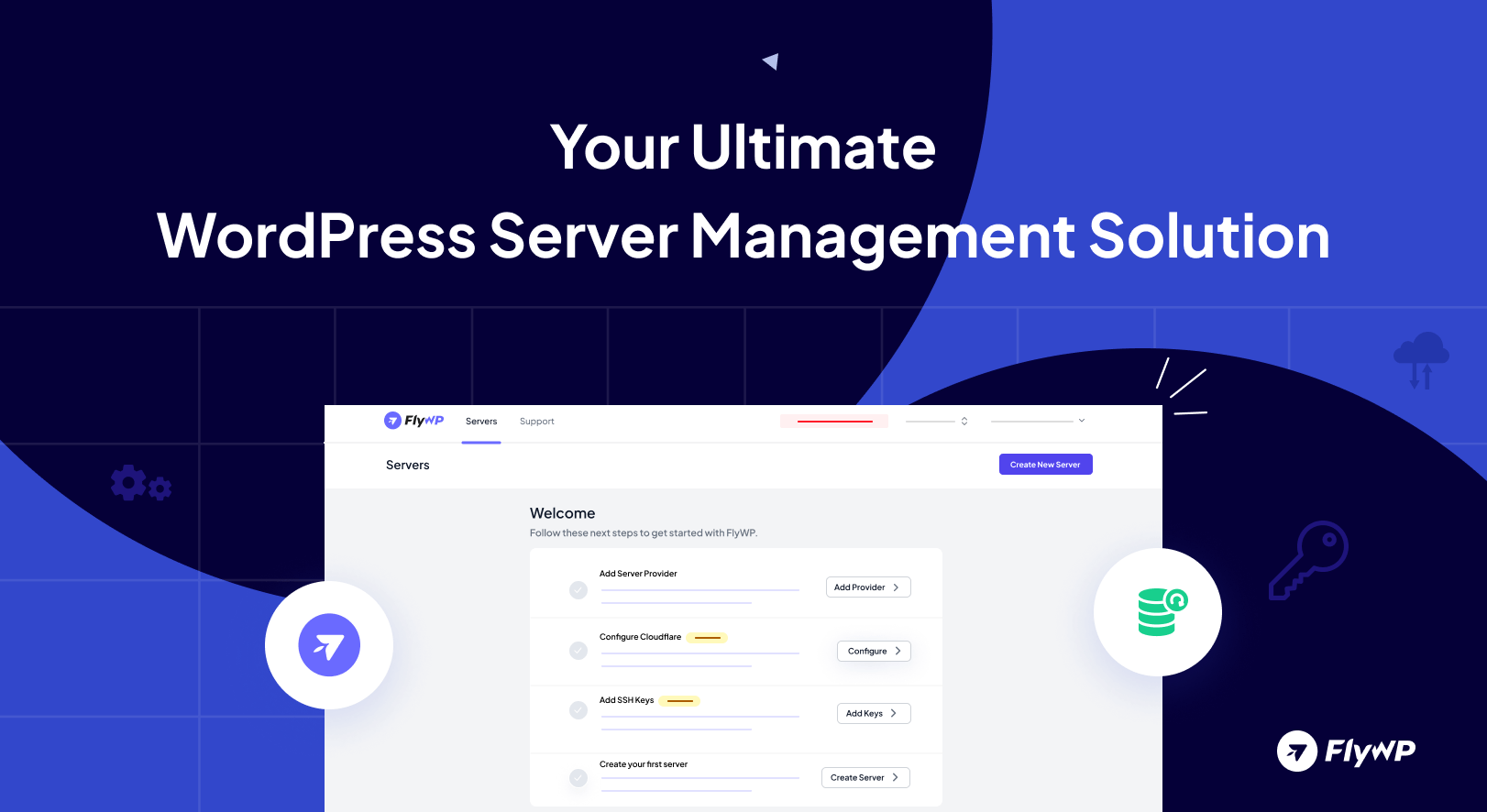 Along with the discussed features above, there are a lot more things that you get in FlyWP. From adding different popular server providers to optimizing your site, you'll get a full-fledged site management experience with FlyWP.
Here, we have highlighted some of the notable features of FlyWP. Check out them below!
👉 Get instant support from the popular servers
Flexibility is one of FlyWP's most impressive qualities. FlyWP is compatible with a wide variety of server configurations and hosts, including DigitalOcean, Google Cloud, Amazon Elastic Compute Cloud (EC2), Vultr, and even your dedicated server. This gives you exceptional power over your WordPress setup, as you may use whatever server you like.
👉 Specially designed for WordPress
With FlyWP, managing your WordPress site is as easy as pie. Regular automatic upgrades of both plugins and themes will maintain your website's security, functionality, and relevance.
You have full control over your site's settings using the WP Config Editor, and difficult jobs are simplified with WordPress's multisite support and CLI support.
👉 Improved staging sites for continuous testing
It's simpler than ever to set up and control staging environments. FlyWP lets you set up staging environments for testing, so you can make changes to your site without worrying about breaking the live version.
It's the best option for training new employees without disrupting your live server while making sure they gain real-world experience.
👉 Dedicated backup options to save time and effort
FlyWP provides multiple solutions for backing up your site's data, an essential part of any site management strategy. Set up regular backups, make more copies when you need them, and restore them. Your data is protected and recoverable with FlyWP.
To ensure your data is safe, FlyWP lets you store your backups with reputable cloud services like AWS S3, Digital Ocean, Cloudflare R2, and Google Cloud. This additional safeguard guarantees the safety of your data during storage and facilitates its retrieval in an emergency.
👉 Increased performance
Your site's performance relies heavily on caching, and FlyWP takes it to a whole new level. Full-page caching and Redis caching are also available, and the system is compatible with the most popular caching plugins.
In this way, you can guarantee that visitors to your site will have a positive experience.
👉 One-stop data management
FlyWP brings all your site management tasks into a single, user-friendly central dashboard. Gone are the days of juggling multiple interfaces and logins.
With FlyWP, you can effortlessly manage all your sites from one place, streamlining your workflow and saving you valuable time.
👉 Developer-friendly tools and handy options
FlyWP provides helpful resources that developers will enjoy using. Features like "Push to Deploy" and "Easy Switching of PHP Versions" streamline development by making it less of a hassle to deploy updates and modify your PHP environment.
Your MySQL database and logs are accessible directly to you, giving you full command.
👉 Team management to increase productivity and efficiency
Leading a sizable group of workers? No worries, we offer the super-cool team management option to enable you to accelerate the efficiency of your team members. FlyWP did indeed improve the efficiency and simplicity of managing teams. You'll have complete control over them all in a single convenient location.
Super Admins, Server Administrators, and Site Administrators are just some of the team member responsibilities that can be managed. The responsibilities of each position vary. This makes it easy for multiple people to operate a website collectively by giving them appropriate permissions.
👉 Strong security and real-time monitoring
For the sake of your website's security, FlyWP has you covered. The automatic firewall, site isolation with Docker, free SSL certificates, Cloudflare integration, and an optimized Nginx server focused on security give you the peace of mind you need to keep your sites safe.
In-place upgrades Always use the most recent security fixes for your system.
Pricing plans: which server management package will you choose?
FlyWP has three different plans at different price points. They are hobby, growth, and business plans. Also, you can get them in three tires, monthly, annual and lifetime.
Monthly Package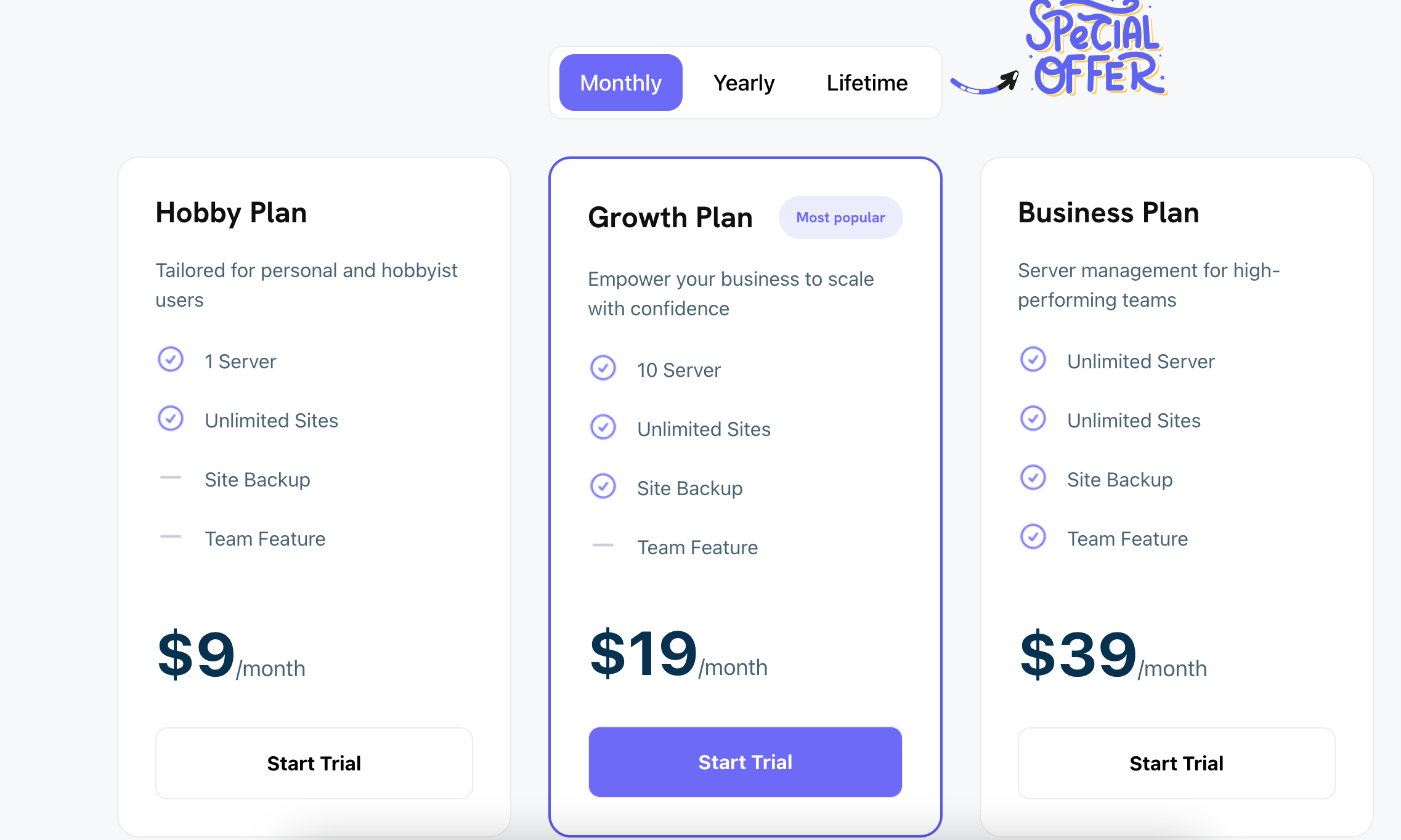 Hobby plan: 1 server with unlimited site creation. It starts at $9/month.
Growth plan: 10 servers with unlimited site creation and site creation. It starts at $19 per month.
Business plan: Unlimited servers with unlimited site creations, site backup, and team features. It starts at $39 per month.
Yearly Package:
Hobby plan: It starts at $90 per year. Here, you can add one server with unlimited servers.
Growth plan: It starts at $190 per year. You can add 10 servers with unlimited sites and get a site backup option
Business plan: In this plan, you can add unlimited servers, unlimited sites, site backup, and team features. This package starts at $390 per year.
Lifetime deals: By using FlyWP, you can access lifetime deals that offer various facilities and options in addition to the regular pricing.
$349: You can add up to five servers under this package
$649: Under this package, you can add up to 10 servers
$949: In this package, you can add up to 15 servers
Also, you can add unlimited sites to all plans
The site backup feature is available in the growth and business packages to save your important data and files
Team collaboration options are available in the business package.
Most FAQs about FlyWP
Handle your WordPress server with FlyWP
When it comes to getting the most out of your WordPress website, FlyWP is your one-stop shop. It streamlines site administration, improves performance, and strengthens security because of its adaptability, optimization, and developer-friendly approach.
Well, that's all I have time for right now. Now is the opportunity to advance to the next level in your server management career.
Let go of hassle-free site maintenance and accept the power of FlyWP as the best server management solution for WordPress.